Mais um joguinho nasce na incessante cena homebrew do PSP. Legend of Zelda, como o nome diz, é um jogo simples no maior estilo, bem, Legend of Zelda.
Apesar do jogo ainda estar em sua versão Alpha 2 e servir mais como um "proof of concept", ele já possui as seguintes funcionalidades:
– Movimento do personagem;
– Sistema de colisão;
– Todos as casas da cidade completas;
– Níveis bônus;
– Suporte ao PSP Slim.
Para quem quiser brincar um pouco, o download está disponível abaixo. Instale copiando a pasta do jogo para /PSP/GAME.
Edit: a pedidos duas SSs do joguinho: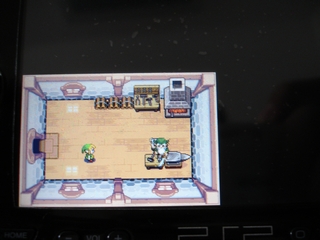 Legend of Zelda Alpha 2 para PSP